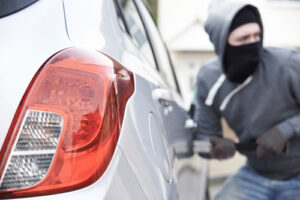 Gavin Hepburn, sales and marketing director at ATG Access, looks at physical security solutions for car theft prevention
The news that car thefts have risen by 30% in the past three years come as a major concern for motorists, particularly as this will likely cause insurance premiums to increase. Car owners tend to spend lots of money each year on their vehicles – from leasing costs, insurance costs, tax payments and general running expenses. Owning a car doesn't come cheap, and even less so when incidents like car thefts push these costs up even further.
Having said this, little thought is actually given to increasing security measures, car owners usually rely purely on the security features that are now in-built within the car. Of course, it's true that cars have never been more secure, so why should people have to invest more of their own money into preventing their cars from being stolen?
But theft is becoming much more sophisticated and criminals have conjured up many ways of intercepting basic security features. Technology in cars may be advancing, but so are methods of defeating car manufacturers' anti-theft systems, such as keyless entry and immobilisers.
When criminals are successful in their theft attempts, the disruption caused to owners is immeasurable. Not to mention the violation they must feel knowing that someone has targeted them and has unlawfully taken their possessions. Often our cars are parked on our driveways, which are just a few steps away from the front door to our house.
But these incidents can be prevented – physical security measures, such as bollards, can be installed to protect a driveway and prevent theft completely. This would give homeowners greater peace of mind, as these measures provide thieves with a visual deterrent, which prevents houses from being targeted. These products are cost effective, and easy to operate and install. In some cases, of course depending on insurer discretion, the installation of bollards could bring premiums down – it's worth checking with your insurer.
Car technology can only do so much when it comes to preventing thefts, and stronger safeguards are needed to protect our properties. Physical security solutions are much more reliable and often make criminals think twice about stealing cars. Even the traditional steering wheel lock looks set to be making a comeback.