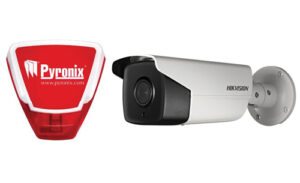 Last week it was revealed that Chinese surveillance giant Hikvision had acquired Rotherham-based intruder manufacturer Pyronix. Speaking to the South Yorkshire Times, former owner Julie Kenny, said that the sale of the £25m turnover company would ensure the best possible future for the business. She said: "This acquisition represents a huge opportunity for Pyronix, Rotherham, and the region. The foreign direct investment that this will bring to the UK will be huge. For the business it's a big, big plus, it's the right thing for the future. It shows we have companies that the Chinese want to invest in."
We caught up with Laurence Kenny of Pyronix to find out more about the deal and its potential impact upon the business:
What will the acquisition mean for UK installers/customers?
"For our UK customer base, this acquisition means that we will bring products to market quicker, maintain the same exceptional level of UK Technical Support, and bring innovative and ground-breaking products to market that will be the future of the security industry going forward. But the key part for us is that it is business as usual. Installers and distributors will have the same Pyronix management team and Pyronix Account Managers to call on.
"The convergence of these two great companies also symbolises the convergence of two technologies – intrusion detection and video surveillance. The line between the different security industry segments is vanishing. This acquisition marks the future of our industry. We are really excited for what the future holds, and we hope our customers are too."
Will we see any changes to Pyronix branding?
"The Pyronix name will remain, building on the great reputation that we have in the market. We will unveil the new branding in due course…"
What changes will be made to the Pyronix business?
"The Pyronix business will largely stay the same. We have forecasts and opportunities for growth in all our existing markets, with entry into new markets as well. This will of course require the support that our Pyronix team has so far been providing, and Pyronix is well placed to support this growth going forward.
"From a management team point of view, we have Jiang Feng Zhi from Hikvision joining us as the Chairman of Pyronix, Sebastian Herrera will take the role of CEO, Massimiliano Troilo joins us as the Global Sales and Marketing Director, with Guy Dodd as the UK Sales Director."
Will Julie Kenny (former Chair and CEO) still be involved?
"Julie will still be working within the company going forward. Julie has dedicated her career to the security industry, not only Pyronix, and she will be with us as we return to IFSEC with a bang again this year."