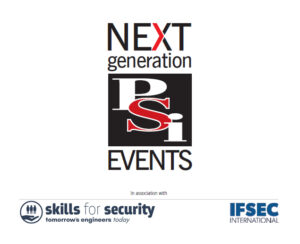 With a theme of recruitment, apprenticeships, training and technology innovation, two new UK events for 2022 seek to bring the industry together to promote the sector, raise product awareness and encourage personal development in the security installation trade.
Hosted by PSI magazine in association with Skills for Security, a wholly-owned subsidiary of the British Security Industry Association (BSIA), the new events, with the theme "Next Generation", will take place at two prestigious UK venues.
"The term "Next Generation" refers to the two angles of the events," says PSI magazine editor Andy Clutton. "One is the next generation of talent we need to bring into the security industry and the other is the next generation technology that manufacturers will be showcasing at the shows."
The two-day events will comprise a day of presentations held under the guidance of Skills for Security, the UK's largest fire and security apprenticeship provider, and also include a programme of in-depth technology installation and application demonstrations and a table-top exhibition area featuring key manufacturers, service providers and recruitment companies. This will be followed by a networking dinner in the evening and a golf day on the second day at which players will compete for the IFSEC Cup.
The two events will be held at:
Warren Weir at Luton Hoo on 22nd & 23rd June 2022
Celtic Manor on 14th & 15th September 2022
The event at Luton Hoo will also include the PSI Premier Awards Dinner on the evening of 23rd June when the installer's favourite technology innovators and service providers of the year will be revealed.
"Bringing new talent into the security industry and raising the standards of professionalism across the board will be the main aims of the events, as well as enjoying a day's competition on the golf course!" said Mark Quittenton, Managing Director of Pro-Activ, publisher of PSI magazine. "By working with IFSEC and Skills for Security we will be bringing the industry together with the common goal of raising the profile of the sector and helping installers to nurture flair and aptitude among their teams at a time when we recognise that bringing on the next generation of installers is vital for the future of the sector."
David Scott, Managing Director at Skills for Security said: "The events are an exciting opportunity for us to strengthen and develop our links with individuals, employers and stakeholders and help boost the value of apprenticeships in the sector. We see them as a chance to present ideas and offer advice to installation companies looking to secure the position, image and future of their business."
Gerry Dunphy of Informa, the organiser of IFSEC, commented: "We know from our experience with IFSEC that the networking element of trade events is vitally important as it is relationships that keep business working. Combining an industry forum with a golf day is a great idea and we hope that playing for the IFSEC Cup will become a fixture on the industry calendar."
There are a number of opportunities available to enable companies to take part in the new events. For further details contact David Lewis on 0208 295 8309 or here