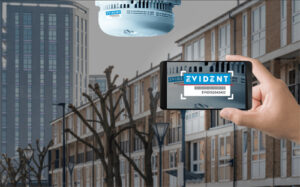 A two-year pilot scheme of Evident Software (Evident) by housing association Hyde Group, will see the implementation of Evident's fire safety asset management software across four apartment blocks and one sheltered housing property, spanning the London boroughs of Bermondsey, Croydon, Southwark, Lambeth and Lewisham, managed by Hyde.
Evident has already tagged and logged every piece of fire safety equipment in each of the five buildings, from smoke alarms and fire extinguishers, to emergency lighting and dry risers. The equipment will now be monitored by Evident's Landlord software, which gives Hyde a real-time dashboard on each of the building's safety equipment – including audits, service reports and end-of-life data to ensure all apparatus is fit for purpose and regularly maintained. It also helps identify any areas that are without adequate protection which can then be swiftly rectified.
For Hyde, which is responsible for more than 100,000 residents and is part of the G15, an organisation made up of the largest housing associations in and around Greater London, this provides clarity. The safety compliance equipment information, maintenance management, contract and audit details for all the buildings are now instantly accessible from any mobile device, and any location.
Liz Oliver, director of compliance at The Hyde Group, said: "Our work with Evident now makes it fundamentally easier for us to reduce the risk of fire in our buildings and provide residents with peace of mind. The software makes it easy for us to check the status of all our safety equipment and enables us to act far in advance of items requiring servicing and end-of-life replacement."
Tracie Williams, managing director of Evident Software, comments: "This pilot creates the golden thread of information that Dame Judith Hackitt called for in her government-commissioned post-Grenfell report, to ensure the transparency and compliance of fire safety equipment and maintenance in residential buildings.
"Hyde will now have a holistic view of what equipment exists, what work needs to be done, what work hasn't been done, and what work is upcoming in a live and digestible way. We hope that this subsequently will help residents to feel confident that Hyde is doing everything it can to keep them safe in their homes."