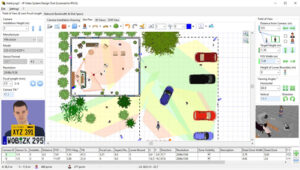 In a move designed to support system specifiers and designers, Hikvision has partnered with CCTV design software supplier, JVSG.
Hikvision distributors, systems integrators and installers will now be able to use the JVSG's IP Video System Design Tool, to select any of Hikvision's 2 Series EasyIP camera range, 4 Series and 6 Series network cameras, for inclusion in video surveillance system planning, design and efficiency analysis.
Now available with Hikvision camera parameters such as resolution and focal length embedded into the software, this solution allows designers to enhance the level of a planned system's security and efficiency – using 2D and 3D modelling of an end user's premises. The solution helps identify optimal camera locations and potential blind spots, the required network bandwidth for any number of IP cameras, and the required HDD storage space needed for video archives.
"We're glad to offer a quick and easy way for our customers to design their video surveillance systems," said Greg Luo, Overseas Technical Director at Hikvision. "Helping to visually portray to customers how a particular system specification will fulfil their surveillance requirements, the new software with Hikvision camera selections, is set to provide a new level of design support, to help users optimise imaging performance and overall equipment costs, while providing improved security solutions."