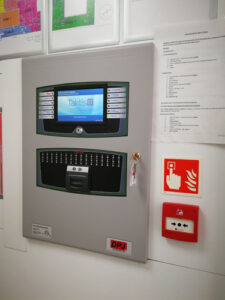 A Taktis panel from Kentec installed by DPJ Fire and Security is helping protect visitors, staff and actors at Maidstone Studios in Kent.
DPJ Fire and Security were approached by Maidstone Studios to advise what they could do with the existing fire alarm and control panel that was showing signs of degradation, and turned to Kentec's product suite to upgrade the studio's existing fire control panel located in the studios entrance and reception area.
Steve Bidmead, Senior Project Manager at DPJ Fire and Security, says: "We met with the client and discussed their current fire alarm requirements and future plans. The customer is forward thinking and technology driven, and wanted a future-proofed solution."
"The flexibility of Taktis is such that it can be re-configured to realise multiple control and indication applications. The touch-screen full-colour 7" display provides an intuitive and easy-to-use interface. The studios also have a number of Kentec Syncro panels onsite covering various areas and the long-term plan is to network these to the new Taktis panel.
"Since being installed, there have been no issues and the customer is very happy with the solution," Steve adds.