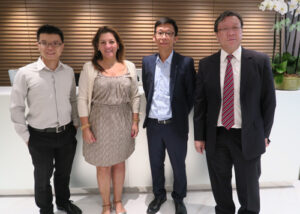 Newmark Security has announced its entry into Asia with the opening of Grosvenor Technology Hong Kong. Grosvenor Technology is Newmark's wholly owned electronic security subsidiary.
The new Hong Kong office will give Grosvenor Technology a hub from which to access the lucrative and growing Asian market – and allow the company to provide clients throughout Asia with access control and time and attendance solutions.
Three key personnel have been recruited to spearhead the new territory. James Chan joins Grosvenor Technology Hong Kong as Business Development Director. He has 20 years' experience in access control and electronic security, and previously worked at Schneider Electric. Nero Ng has been announced as Vice President of Sales; he has over a decade's experience in sales and technical management in Asia working with Rosslare and Tyco.  Finally, Kenneth Yau joins as a Technical Services Engineer and brings extensive experience of implementing SQL in Hong Kong and throughout APAC.
Marie-Claire Dwek, CEO of Newmark commented: "This is an exciting development for both Grosvenor Technology and the Newmark group. The formation of Grosvenor Technology HK is an important milestone – underpinning our strategic move into growing markets. We are looking forward to working with the new team and to providing electronic security solutions for the APAC region."
Pictured (L-R) Kenneth Yau, Technical Services Engineer, Grosvenor Technology Hong Kong: Marie-Claire Dwek, CEO, Newmark Security plc: Nero Ng, Vice President of Sales, Grosvenor Technology Hong Kong; James Chan, Business Development Director, Grosvenor Technology Hong Kong).