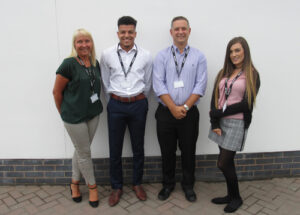 Abloy UK has recruited four new team members to boost its team, supporting growing demand for its products and ensuring customer service levels across the business.
Michael Clarke-Booth has been appointed as Product Support Engineer. He is a qualified Architectural Ironmonger and time served Bench Locksmith, boasting 27 years of experience in the Locksmiths market sector. Michael will be supporting product specification and utilisation throughout the UK and Irish marketplace.
Robin Norton is Abloy's new CLIQ Product Support Team member, and will be supporting new product ranges including eCLIQ and CLIQ Go. This expands the team from three to four.
Kay Boyle has been recruited as Product Manager for Key Systems, and is a qualified Architectural Ironmonger with a wealth of market experience with both mechanical and electrical products.
Curtis Harvey has been appointed as Marketing Executive, having previously completed an undergraduate placement in a similar role. This recruitment ensures extra resource is in place to support the company's growing business and Authorised and Approved partners.