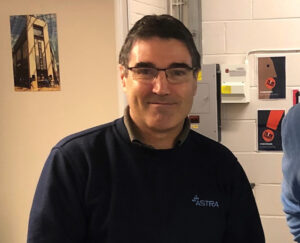 Steve Rees is the Senior Project Manager at NSI Gold approved Astra Security in Bristol. Areas of expertise for the business include CCTV and access control installation and maintenance.
What would be a typical project for you?
Our projects can range from small retail outlets to very large-scale distribution centres. We also have a lot of experience with industrial type systems such as power stations and manufacturers that required cameras to monitor a particular production process.
Do you have any 'go to' technology and manufacturers?
We primarily use Hanwha Vision for our core CCTV installations and Paxton for access control systems.
What is the best thing about working in this industry?
Working in the CCTV industry can provide a sense of purpose as you help improve public safety and security, preventing crime and protecting people and property. The CCTV industry is constantly evolving, which means that you may have the opportunity to work with the latest cutting-edge technology, such as facial recognition software, thermal imaging, and video analytics.

Is third party certification beneficial?
Third party certification is very important to us and often a prerequisite from many of our clients, we are very proud with the all the hard work and team effort needed to hold NACOSS Gold accreditation.
What advice would you give to a younger version of yourself?
Appreciate the good things in your life, no matter how small they may be. Practicing gratitude can help you stay positive and optimistic, even during difficult times.
Read the full interview in the June 2023 edition of PSI magazine