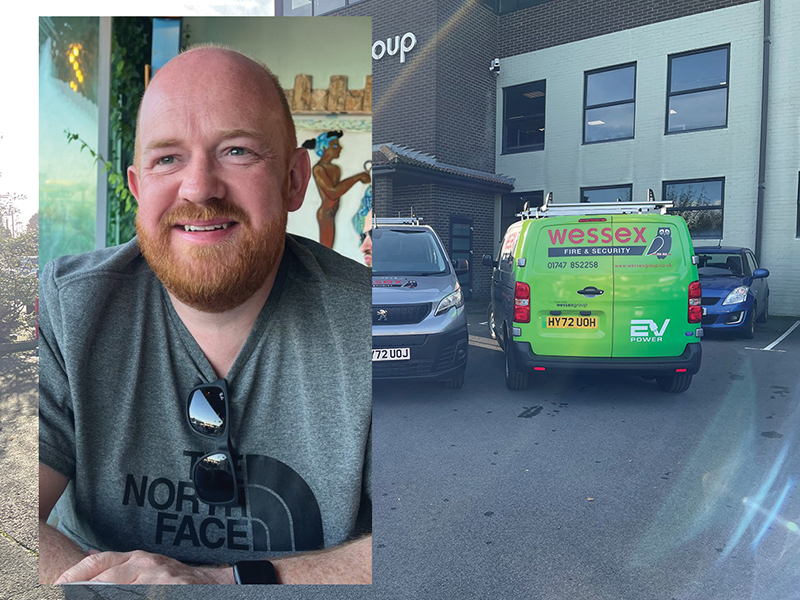 Pete Davis is the Technical Manager at Wessex Fire and Security in Dorset. Areas of expertise for the  NSI Gold certified company include the design, installation, service and maintenance of security and fire detection systems.
What would be a typical project for you?
Typical projects for us include systems incorporating fire alarms, extinguishers, access control, intruder alarms, CCTV, nurse call, refuge and warden call systems across a wide variety of sites, these can range from simple domestic installs, high value individuals, infrastructure sites, iconic heritage buildings, school, universities, commercial and industrial.
We would normally see out the whole project from design through to installation and commissioning and then look after the sites with a full Service and Maintenance contract.
Do you have any 'go to' technology and manufacturers?
As a business we operate with a product portfolio which contains two or three different manufacturers for all disciplines whose products we have tried, tested and evaluated thoroughly to ensure they are the right fit for the works we carry out.
We always like to keep on the forefront of technology in our industry and are always keeping on top of new products released to see if they are something that could improve our offering to our end users. By sticking to a smaller number of products we believe we are able to give our customers the best service possible and it enables us to train the engineers to the highest standard on each product which in turn delivers first class customer service.
What is the best thing about working in this industry?
For me it is currently the enhancement in technology that has been happening in the industry recently, IoT is a big change for an industry that in the past hasn't really moved on as quickly as other industries. IoT is now enabling so much more to be achieved with fire and security systems and helping them to integrate with one another, further enhancing their capabilities which in turn increases the offering to the client or end user and lets them have all the information and control in one place which is a big request for a number of our larger contracts.
We are also lucky enough to work closely with manufacturers helping them beta test new equipment, so we get to see what is coming to the market early which often gets the sales department excited, just as long as they don't sell the product before its released (this has happened).

Is third party certification beneficial?
Yes I believe it still is as beneficial now as it has always been, with our accreditations we can prove that as a business we are working within the guidelines of the industry, it shows that not only our installations, service and maintenance work is carried out to the highest level but also that our management systems, training and health and safety is the best it can be, it ensures end users that we are using the right products for the right reasons and they can be safe in mind that their systems that are designed to protect them are doing just that.
Read the full interview in the March 2023 edition of PSI magazine