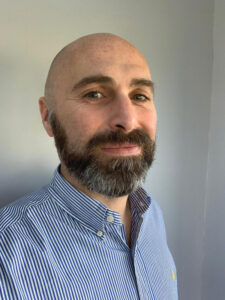 Jamie Allam is the Director at Integrated Protection Maintenance Services (IPMSL) experts in fire safety, CCTV, intruder alarm, access control and system transfer.  The NSI Silver certified company carries out services includes initial design and specification through installation to project completion, maintenance and monitoring.
What would be a typical project for you?
There is not necessarily a typical project for us.  We are lucky in our scope of works that we are able to operate in a variety of industries, including prestigious residential properties that operate with smart home and mobile first security and fire integration.
For commercial premises, we are also currently working in partnership with Facility and Security teams who are trying to negotiate the dynamics of the new working environment, including the new blended working.  It has significant consequences for access control and managing complex processes such as an evacuation, safety test or even just the usual flow of people.
In between, we also operate across a number of sectors, including retail where we look to secure shopping centres alongside a number of individual units, through education for primary and secondary schools.
Do you have any 'go to' technology and manufacturers?
Over the years we have built some significant relationships with key distributors alongside long term manufacturer relationships. We believe we work in loyal partnership on both accounts, giving and gaining business from each other. And we hope this will continue for the future success of the supply chain as a whole.
We work with partners who we know can provide our customers with innovative new security technology products, that embrace the latest innovations alongside the need for remote and mobile-first monitoring. These include but not inclusive to Texecom for intruder and Salto, Paxton and BPT for access control.  We embrace Avigilon and Dahua Technology for CCTV.
We are also very proud to have recently become part of the Honeywell Gent Network, with exclusive access to supply its extensive range of fire detection systems.  Each supplied to the highest possible standards to deliver most advanced fire detection and alarm systems.
What is the best thing about working in this industry?
From the day we formed IPMSL parent company Amthal we pledged to 'protect what's precious,' and I believe this is the best thing about working in this industry. Whether it is a family property or a business operation, we know that our products and services operate to protect people and assets.  Ultimately, we can make a significant difference to their safety and security and this will always be important.
Is third party accreditation beneficial to you?
Yes, we believe it is absolutely critical.  It proves our competence to our partners and our clients.  It also ensures that our design and installation meet all required legislation. We work very hard to ensure we keep up to date on changing regulations as well, to ensure our work is future proofed.
Essential, it's so important for us, that it forms part of our own core mission. In our desire "to provide unrivalled quality and customer service," third party accreditations give our customers peace of mind that we will deliver what we say we will as a credible business.
Read the full interview in the March 2022 edition of PSI magazine