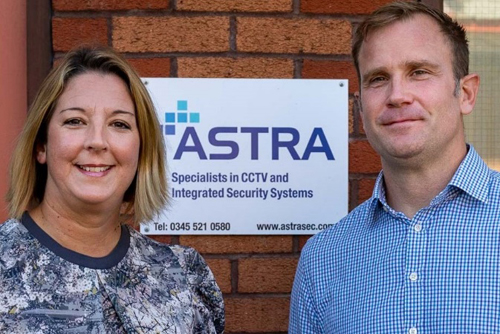 Astra Security has announced changes to its management team structure following a couple of important internal promotions.
Firstly, Matthew Stanley has secured the role of Director of Operations.  This will see him focus on the continual development and implementation of policies and procedures to ensure that business objectives are met. A key part of enabling this will encompass the motivation and training of operations staff to conduct their functions and responsibilities in line with business and customer expectations.
Matthew has been with the company for five years, and his previous role as Senior Account Manager has been instrumental in securing and maintaining its client base. His excellent relationship management skills have been pivotal in securing his new role.
The other management structure change is that Sarah Steer has secured the position of Finance, People & Compliance Director. This role will see Sarah deliver and manage the disclosure and accountability for all financial activities within the business and instil best practice and staff policy development for all areas of HR.
Sarah has also been with the company for five years and has a wealth of knowledge including the management of ISO9001:2015 compliance and internal auditing programme.
Paul Beet, Managing Director at Astra said: "It makes perfect sense to promote Matthew and Sarah into these roles, as they have both been integral to the ongoing success of the business within their individual remits over the last few years. I'm a big believer in promoting from within the company, as this is a great motivator for our existing staff, who can be secure in the knowledge that developing internally is a key focus for us. I wish Matthew and Sarah the best of luck in their new roles."