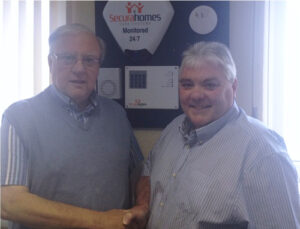 Secura Management, the company behind the Securahomes and Pro-tect Alarms brand names, has acquired JR Clegg Security to sit within the Securahomes group.
JR Clegg Security will continue trading under its own name. For more than 23 years, the company has been installing alarm systems across East Yorkshire, building up business across Scunthorpe, Grimsby, Hull and Barton-Upon-Humber.
John Clegg, founder of JR Clegg Security states: "Joining Secura Management and becoming part of Securahomes will enable us to continue selling domestic house alarms, as well as the Securahomes wireless systems to both new customers and our existing customers. The UK domestic alarm market is changing for the better; homeowners are looking for monitored alarm systems that offer complete protection, not just from burglars and intruders, but they are looking for intelligent alarm systems that also help protect them from carbon monoxide poisoning and the dangers of smoke inhalation caused by house fires. Becoming part of Securahomes will ensure we remain competitive, whilst allowing us to offer a range of intelligent monitored alarms."
Martin Mann, owner and managing director of Secura Management states: "JR Clegg Security has a long-standing reputation for good customer service, which is an ethos that fits nicely into our own culture of service and after sales care. We're confident our alarm systems will serve the people of Scunthorpe, Grimsby, Hull and Barton-Upon-Humber very well, safeguarding them and their property. Acquiring JR Clegg Security is the right choice for the Secura Management family and for our customers living in East Yorkshire."
Under the acquisition Securahomes engineers will help to deliver the after sales care services, providing maintenance and servicing; they will also install alarm upgrades to existing customers who are looking for monitored systems.
Secura Management announced its acquisition programme in 2014. Acquiring JR Clegg Security forms part of the firm's ten-year growth strategy that will see Secura Management acquiring further alarm installation companies to grow its share of the UK domestic alarm market.
Pictured (L-R): Martin Mann and John Clegg