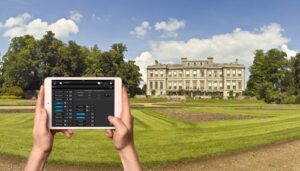 Raytec Network Illuminators have been deployed as a key element of a bespoke IP security solution for a Grade II listed Manor House in Shropshire, UK to deliver night-time surveillance images and actively combat crime.
Previously a target of crime, the estate had no professional CCTV system, relying only on halogen lighting with inbuilt PIR detectors. The security team needed a solution which would allow 24/7 monitoring over the property, particularly at night, with the ability to respond instantly to any security breaches.
SMC designed an IP surveillance system, integrated with Raytec White-Light IP Illuminators which were installed around the estate perimeter and around the Manor House. IP addressability and connectivity was crucial to the system design, ensuring that the IP lighting could be automatically triggered by any network device to provide an instant, visual response to any incident in real-time.
A bespoke integration with a Crestron Control System also allowed remote control over the lighting at any time and was designed in house by SMC using Raytec's network lighting API.
Optex PIRs were installed to detect the first signs of an intruder and automatically trigger the Raytec Network Lighting as a first line of response to deter any potential intruders. Simultaneously the system sounds an internal alarm in the estate office and the manager's apartment.
The LED lighting enables Samsung PTZ network cameras to deliver images during the hours of darkness, providing information to the staff as to who or what is on-site. The security team are able to use the Crestron system via a touch screen interface to take live control over any individual illuminator or group of illuminators. Selecting them via a map view, they can flash key zones of illuminators in the exact place an incident is occurring as a further warning signal to deter crime.
Sean Gill, SMC Security Manager, comments: "We selected the Raytec IP lighting as it could be easily integrated with the wider system and enables us to respond instantly to any potential break-ins, even if they occur out-of-hours. The LED lighting is also crucial to helping our CCTV operate at night. In fact, the new IP system has already allowed us to prevent a potential break-in and helped us to clearly identify the intruders!"