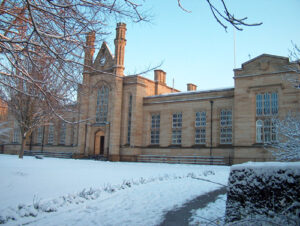 Wakefield Grammar School Foundation in Yorkshire, England, has deployed an access control and video surveillance solution that will increase security across its five-school campus.
After determining that the organisation needed to expand its current security out to the perimeter, the campus installed an integrated security solution that includes an exacqVision video management system (VMS), Illustra dome and bullet IP cameras and exacqVision network video recorders (NVRs) with Kantech EntraPass access control software pre-installed. Coupled with the 3MP Illustra mini-domes and bullet cameras and exacqVision VMS software, the school has a complete, seamless solution for both daytime and nighttime surveillance.
The exacqVision Kantech Onboard NVRs provide all-in-one network video surveillance and access control on a single server. With the pre-installed, pre-licensed Kantech EntraPass access control software on the server, they save on hardware expenses and reduce the amount of rack space required. The solution enables the user to view live or recorded video directly from the recorder, or remotely using a Web browser or separate computer.
"To enhance its perimeter security, Wakefield Grammar School Foundation chose an ideal solution for a campus environment that provides a surveillance solution with built-in access control software," said Steven Ward, technical director, Reflex Systems. "This allows security staff to view and react to both surveillance and access control events in a single interface."
With its integration partner, Reflex Systems of South Yorkshire, England, Wakefield Grammar School Foundation chose a package that will allow the campus to continue to expand its security system into the future, including using mobile surveillance features and integrated access control.