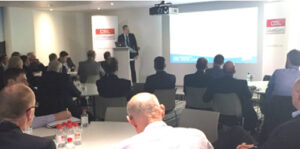 The ninth CSL DualCom annual Insurers' Forum held recently at Vodafone HQ attracted the usual strong turnout of insurers. A panel of industry experts provided updates on the latest industry statistics and trends affecting risk assessment in the fire and security sectors.
Ray Kay, Head of Vodafone M2M UK kicked off the discussion by outlining Vodafone's investment into their Global M2M Platform to support their M2M connections. He also discussed plans to focus on 2G devices with an estimate of 15 billion connected devices by 2020.
CSL DualCom's Simon Banks discussed changing trends on the high street and the resulting change in risk to Grade 2 and 3 systems. He highlighted that CSL does not filter any alarm signals, noting that this was a practice used by some signalling providers to lessen nuisance calls to end-customers, stating that ARCs should decide between false and genuine alarms due to their critical nature. David Mair of the Metropolitan Police reiterated the importance of ensuring all signals are received by the ARC and Police using the Hatton Garden heist as an example. In this specific case the human error involved would have been mitigated had the incident been electronically processed and verified.
Automation was also a theme shared by James Gribben of SMC and Jason Denton of VPS. James discussed how it helps streamline processes and remove wastage for the ARC. Jason explained how clients are beginning to move away from expensive manned guarding in favour of battery operated CCTV or electronic locking systems for vacant sites.
Cyber risk was another popular topic, with Andy Barrett, Managing Director of Coalfire updating on the company's work with CSL to penetration test all products and platforms. He also explained that many common criminals have added cyberattack to their armoury as the technology is widely available and affordable. He emphasised that the UK needs to move towards mandatory disclosure similar to the USA in order to get the licensing we need to regulate this area.
Paul Phillips of the BSIA clarified the state of play regarding the temporary Industry Agreement – IA1501, issuing a warning regarding the ambiguous insurance position caused by the re-introduction of remote setting.
Graham Hazlewood, Business Development Director at NSI explored the major growth area of fire and NSI's plans with BAFE. Fire was also the topic of the day for both Neil Boustred of CFOA and Douglas Barnett of AXA. Neil updated on how the trial of a Progressive Interaction Service produced a 15-20% reduction in unwanted fire signals, whilst Douglas closed the forum by summarising a Scottish project which found outdated and poorly installed fire systems to be a major cause of false alarms.