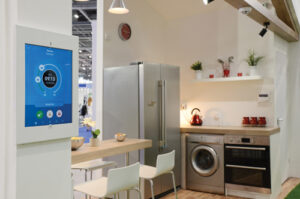 At IFSEC 2017, the Texecom stand showcased live demonstrations of Texecom Connect, the smart connectivity platform. We caught up with Marketing Director Clym Brown to find out how the show went
We seem to say this every year, but IFSEC 2017 was truly the most successful exhibition Texecom has had to date. At IFSEC 2017, the Texecom stand showcased live demonstrations of Texecom Connect, Texecom's upcoming smart connectivity platform, solving security and automation challenges in real-world scenarios.
Texecom Connect allows security installers to deliver enhanced smart solutions for both commercial and residential customers without compromising on core security principles. To be available mid 2017, Texecom Connect enables a wide range of applications to be supported, adding significant value to alarm systems.
The Texecom stand featured four rooms, each of which demonstrated different Texecom Connect implementations aimed at specific customer needs. The result showed how the Texecom Connect platform could be deployed to add value to systems, thus eliminating the 'grudge purchase' mentality from the end user. By offering credible protection, security and safety along with benefits including smart home functionality and advanced connectivity, the value proposition for end users is significantly enhanced.
What sets Texecom Connect apart is its inherent flexibility, which is targeted towards meeting customer needs in a very wide range of applications. Texecom's stand featured interactive displays that emphasised how security installers can simply deliver a fully immersive experience for the customer, allowing them to take control and customise the system to not only offer the highest degree of security, but to also interact with other peripherals such as video, lighting, heating, power management and the smart control of appliances.
In addition to Texecom Connect, a highlight for many installers was the launch of Texecom's new wireless keypad. With the launch of the Premier Elite LCDLP-W, it is now possible for security installers and system integrators to create an end-to-end wireless system that delivers high security along with a proven pedigree for graded systems.