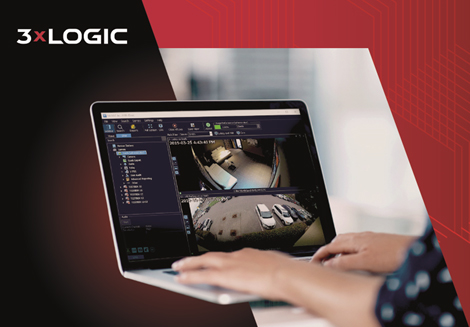 In the second blog of the series, 3xLOGIC explain how you can easily install video, access control and other security technology using specialised video  solutions
As a leading innovator in security technology for over 15 years, 3xLOGIC is constantly finding new ways to make the installation process easier and more efficient. Its easy-to-install solutions for video, access control, disparate data, ATM, point-of-sales, analytics – and more – are designed for quick deployment. 3xLOGIC solutions can cut installation times by up to half, giving installers 50% more time to find new business and complete more deployments.
Installation in mere minutes
Working with 3xLOGIC as their trusted strategic partner, installers can deliver high-quality and robust security systems that are up-and-running in mere minutes and hours. The system will begin working for end-users almost as soon as it's plugged in. Better still, any upgrades can be carried out seamlessly with little-to-no downtime. Naturally, this also cuts creation and ongoing maintenance costs.
Multiple tools to support deployment
Using 3xLOGIC's VIGIL Server solution, multiple tools will help installers deploy quickly. This includes the Easy Setup Wizard that can program cameras within six minutes — instead of having to manually search for each camera, plug in the settings, find the IP and so forth. Complementing this are deployment templates to assist with large projects, and VIGIL Connect – 3xLOGIC's proprietary DDNS – allows remote connectivity without advanced networking configuration. With VIGIL Connect, installers also don't have to set up or remember a static IP address.
An app for quick configuration
The VISIX V-Series Setup App will also be available in Q3 of 2021 on smartphones to help installers efficiently set up and configure VISIX V-Series cameras. It gathers key installation information such as site name, location, camera name, and other key camera data. This can then be used to configure cameras with other 3xLOGIC software such as VIGIL Client, View Lite II, and VIGIL VCM. Alternatively, it can be emailed to end-users for future reference.
Adding further devices and sites to a security system is seamless. Devices can be added to a system through the VISIX V-Series Setup App's QR code scanner. Meanwhile, the Easy Setup Wizard and VIGIL Connect can assist with remote additions.
A wide security range
Working with 3xLOGIC provides installers with an opportunity to install and scale their deployments easily — setting their business apart as a reliable and quick security provider. Installers also benefit from an incredible range of devices and software. The VIGIL video product line includes cameras, VIGIL software, advanced images, recording appliances, accessories and more.
Explore your options with 3xLOGIC today and see first-hand how you can improve your installations. Contact the team here