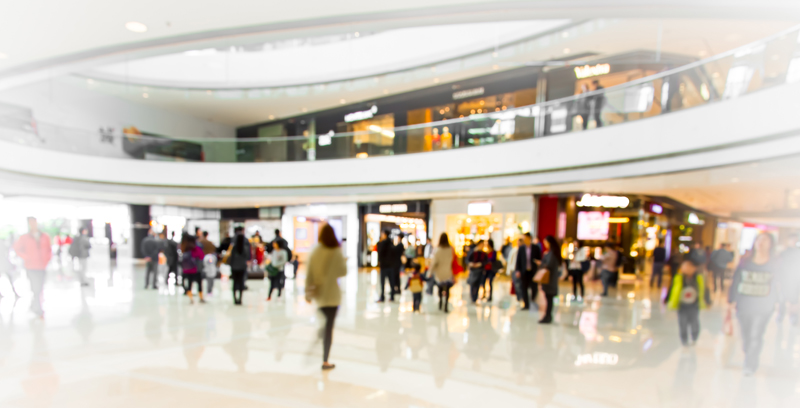 Graham Swallow, Axis Communications, discusses how retailers can harness the power of network audio technology for multiple benefits
The retail landscape has shifted dramatically since COVID-19 emerged in early 2020. High streets and shopping centres, once at the heart of our communities, became ghost towns overnight. Indeed, few will forget the images of London's Oxford Street deserted in the days following the announcement of the first country-wide lockdown. While footfall had been in decline for some time, caused by an increasing division between the worlds of physical and online retail, the pandemic and subsequent lockdowns saw the switch to online increase significantly. This resulted in a 36% increase in online sales in 2020, the highest annual growth seen since 2007.
Now, with Covid infection rates rising once again, retail managers must do everything in their power to ensure a secure and safe shopping experience. Not only will this experience need to be more personalised and more engaging than it was pre-pandemic, but customer health and safety is now high on the agenda. Technology is beginning to play an integral role in modern retail, with digital or IP audio becoming a key component in the high street's experiential revival.
IP audio, security and safety
Historically, the use of audio in retail could be described as clunky at best. Expensive to install and offering little in the way of flexibility, it was competent at broadcasting announcements and playing music but only in a very one-dimensional way. By connecting audio technology to a network and allowing it to integrate with other solutions such as network video and access control, modern intelligent audio solutions can significantly improve in-store safety and security.
An IP speaker, as an IoT device connected to an IT network alongside network cameras and access control sensors, can become a powerful component in an overarching security system. Automated announcements can be used to secure a store, delivering pre-recorded verbal warnings or sounding alarms in the event of unauthorised intrusion or an emergency, when triggered by video data. This gives retail security teams a much greater ability to control their environment, with simple set-up and ease of operation that comes from the IP audio system and video surveillance system sharing the same network.
From a safety perspective, integrated network cameras and IP audio systems can help store managers to determine customer movements and target public broadcasts to certain zones as required, also enabling them to check that customers are continuing to wear masks where required.
Delighting customers with a personalised experience
When an online customer visits an e-commerce website, a web developer's primary focus is to create a positive customer experience and seamless user journey through a website to the checkout. Whether that's personalised advertising, relevant promotional offers, saved shopping baskets or helpful add-to-cart options, the aim is to attract and retain customers. And IP audio technology is helping to replicate that experience and customer journey in the physical retail space.
Firstly, understanding the target customer is integral to achieving this kind of familiarity. It will help retail operators design the right musical experience to appeal to their audience and create environments that excite. Decisions about style and pace of music are important and will vary depending on whether the desired outcome is to encourage customers to shop fast and check-out quickly, or perhaps to browse more slowly and create a relaxed atmosphere where the experience is to be savoured. Some retailers might have numerous target markets within the same store. Music plays an important role in attracting the right sort of customer and influencing buyer intent with the right sound, so a system that allows managers to change what they play and where they play it at the flick of a switch has obvious advantages.
Interspersing music with pre-recorded messages about promotional offers that appeal to the customer when they are on the buying journey will be part of a winning formula. Also, while a customer may not make a purchase every time they enter a store, they will most certainly be more likely to return if the experience was a positive one. By replicating music and announcements across multiple stores, retailers can create a consistency of sound and messaging that ties in with the brand's look and feel, helping to reinforce brand identity. This is achieved by ensuring a consistent music playlist that is uniform in style and volume, for example classical or pop, creating a pleasing aesthetic that is as identifiable as a logo, store layout and décor. Making playlists available digitally removes the logistical challenge of having to post CDs or USB memory sticks out to potentially hundreds of locations, or having to rely on distribution via satellite connection with its associated licenses and permissions.
Managing audio zones for simpler customer targeting
Connecting audio to a network makes the technology extremely simple for operators to manage. Whether scheduling announcements or pre-recording store messages, an IP audio solution removes the need for staff to make their own live announcements ad hoc which can often be unclear and inconsistent. This can have a negative impact on the unified experience that retailers are trying to create. IP audio allows users to set up and manage audio zones from a central location or even via an app on a mobile phone, improving both security and experience store wide.
As an example, imagine a large multi-use shopping centre, centrally managed and encompassing shops, restaurants and a gym. Each area may appeal to a different customer segment, requiring different music and messaging to be sent to relevant zones or areas in which speakers are installed, so that a more customised audio experience can be used for specific clientele. In addition, considerations can be made for seasonal variation, with the choice to incorporate Christmas and other themed playlists to suit requirements, at the touch of a button.
While there are many music streaming devices on the market that can be used for commercial requirements, most will not facilitate integration with other network solutions, so are therefore limited to only the most basic requirements. A high-quality dedicated IP audio solution can be connected to other intelligent technologies such as access control and network video using open APIs, providing retailers with seamless remote flexibility, improving security and safety, and ultimately facilitating better engagement with customers. IP audio is a powerful solution which can help to drive traffic back to the high street; a key enabler for a safer, smarter retail industry.