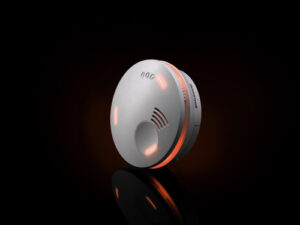 Honeywell has launched a new connected home safety system, the X-Series, which includes smoke and heat alarms and a wireless module. The X-Series combines a discreet design with a 10-year lifetime and warranty and easy installation to create a residential fire safety solution.
Tim Jack, Honeywell's business leader for Residential and Recreational Products says: "The X-Series offers an attractive solution that blends into its surroundings, yet is visible from all angles when an alarm sounds due to its prominent LEDs. The X-Series can also connect to carbon monoxide detectors – giving homeowners an integrated solution."
The range includes three models: an optical smoke detector; a multi-criteria (optical thermal) detector; and a heat detector. The multi-criteria alarm, XS100T, provides protection by combining two sensors to detect fires, whilst the XH100 heat alarm works best in dusty and steamy environments including kitchens and garages. The XS100 optical alarm provides protection in the main living rooms.
X-Series smoke and heat alarms connect wirelessly with other X-Series alarms, including carbon monoxide alarms, to provide an interconnected home safety system with alarms that talk to each other. The alarms have a low-profile shape, concealed LEDs, a large test/reset button and audible alarm.
Independently approved to EN 14604:2005 by VdS and Kitemarked by BSI, the smoke and heat alarms offer a tamper-proof design and have been optimised for use by professionals dealing with residential fire protection.