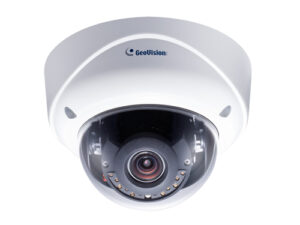 IDS Group has announced the availability of GV-VD3700 and GV-VD5700 infrared vandal proof dome cameras from GeoVision.  Designed to withstand harsh environments and volatile locations they adhere to IK10 vandal resistance and IP67 ingress protection.
The range supports the H.265 video codec to achieve a better compression ratio, saving on storage space.
For optimum night time operation, the cameras have twelve IR LEDs built-in which allows up to 30m effective IR viewing distance. Furthermore both models have P-Iris lenses for control of exposure and image clarity and contrast and are adjustable in pan, tilt and rotate.
Tas Kyriacou, IDS Group's Business Development Consultant concludes, "It's great to see more and more GeoVision cameras coming through which support the H.265 codec, this helps us to help our customers save on storage space and costs for their video footage."