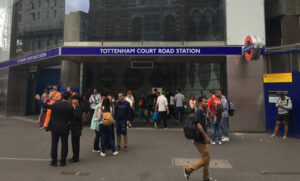 Travellers passing through Tottenham Court Road Station on London's Northern Line and the new £14.8 billion Crossrail network, set to open in 2018, will be protected by fire systems from Advanced.
The combined Crossrail and London Underground station, which originally opened in 1900 as part of the Central London Railway, also serves the Central Line and the Charing Cross branch of the Northern Line. The entire station has undergone a major reconstruction to integrate with the Crossrail service and it is expected to cater for up to 200,000 passengers every day once the new line opens.
Transport for London (TfL), specified Advanced's MxPro fire panel range for the station; installed by NG Bailey there are currently two MxPro 4 networked panels installed in the station, which will increase to four when two MxPro 5 panels are added to the Crossrail sections which is due to be completed in 2018.
Amanda Hope, Advanced's UK Business and Development Manager, said: "The new Crossrail system has been in the planning for many years and is scheduled to open in 2018. It's a key part of the London transport infrastructure and will be used by millions of passengers, so a high quality and reliable fire system is absolutely essential. We believe that the MxPro panels tick all the boxes for the combined station at Tottenham Court Road, delivering a future proof solution with the option to expand and enhance the system in future."