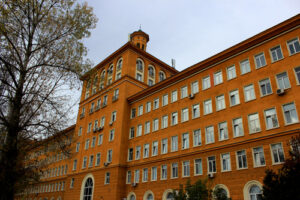 A fire system from Advanced has been selected to protect the Faculty of Chemistry and Pharmacy at Bulgaria's Sofia University.
Originally founded in 1925 and restructured into its present form in 1962, the Faculty of Chemistry and Pharmacy works with many organisations and private companies on research and development projects.
A recent upgrade of the fire systems at the Faculty was specified and installed by Advanced partner FireTech Engineering. The project saw Advanced Axis EN panels installed in the building at the core of a network that includes smoke detectors, call point and a conventional zone module.
In total, 491 field devices, including photoelectric smoke detectors, wall sounders and call points have been installed at the faculty. The system has been designed so it can be expanded and upgraded as needed in the future.
Etienne Ricoux, Advanced's Export Sales Manager for Europe, commented: "The Faculty of Chemistry and Pharmacy is the latest education facility to be protected by Advanced system and one of several recent installations in Sofia."