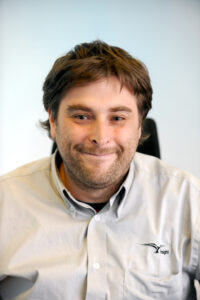 Farsight Security Services has promoted Robert Batch, an employee with over twelve years of service, to IT Administrator. In his new role Robert will be a focal point of contact for Farsight's security installer clients, managing and resolving technical issues found at sites the company currently monitors and helping to set up new ones.
He will ensure that site alarms function properly and oversee Farsight's 'YourSight' fault tracker system. Robert will also handle general maintenance and support the IT team.
"This is a fantastic company to work for and IT administrator is my most important position to date," he says. "I am looking forward to working directly with clients as this is a side to the business I've not worked in before. I have a lot to learn but a supportive team behind me."
At Farsight Robert has worn many hats, starting out as an operator before graduating to senior operator, then turning his hand to fault management. Previously he was a games tester for a software company.
Farsight's Managing Director Rob Moore is positive: "Robert has given us many years of loyal service and proven that he can transition effortlessly between roles, so he will hit the ground running. Our customers will value Robert's experience and expertise, I am sure he will be extremely successful."