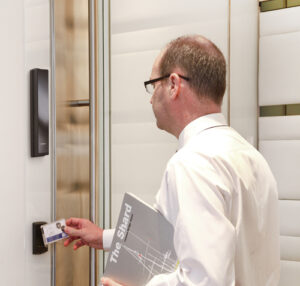 Aurora launched FaceSentinel, a biometric access control authentication product powered by Deep Learning, at IFSEC. Designed for integration with existing access control systems, the system uses AI and infrared light to achieve recognition speed, accuracy and reliability.
FaceSentinel works with existing access control systems to authenticate passholders: a registered user swipes his or her pass card or key fob and FaceSentinel confirms whether the person holding the credential is the same person registered within the organisation's access permissions system. This authentication happens in a second or less, thanks to Deep Learning, a technique used to create a highly optimised Artificial Intelligence. It works by first creating a blank "brain": an artificial neural network. This brain is then trained to recognise faces by presenting it with millions of face image examples, enabling it to become more experienced, faster and more accurate at the facial recognition task than any human or existing technology could be.
The technology behind FaceSentinel also includes the use of infrared cameras to overcome the inherent challenge presented to facial recognition by fluctuations in natural light.
Gary James, Aurora's Head of Sales and Customer Relations, says: "This is the first time the security industry has seen Deep Learning and Artificial intelligence harnessed to create a fast, powerful and truly reliable access control product," he says. "It's unobtrusive – the user doesn't need to present themselves to a finger or handprint scanner – and safe: only face templates are stored, not images of users. FaceSentinel is Wiegand and RS485 compliant and so can be added seamlessly to 90% of the world's access control systems. For high security sites it provides true authentication and peace of mind."