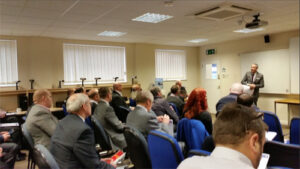 PSI was among the guests at Tavcom Training's Education Day in Bishop's Waltham recently. The one-day event featured a range of presentations from Tavcom trainers plus a chance to look around the facilities and see some equipment in action.
Following a welcome presentation from Paul Tennent, MD at Tavcom, the subject of integration and migration was covered admirably by Jon Laws who discussed the benefits of PSIM and how it can improve a security set-up. Jon's talk also touched on a recurring theme of the day with a section on CCTV standards and the differences between ONVIF and PSIA. Of particular interest was a look at a real security system that suffered from a single point of failure and how installers can avoid such problems.
This was followed by a presentation by Peter Mason who looked at the security of IP systems and the benefits of IPv6 over IPv4. He suggested that consultants and installers recommend a switch to IPv6 to their customers and explained how revenue can be generated from such advice being taken on board. Peter also revealed the weaknesses of networks and told the delegates how cybercrime and credit card fraud cost the UK £450m in 2013.
Paul Fletcher spoke to the delegates about the key influencers in the security sale and the importance of diagnostics for reliability etc.  Paul also discussed the single point of failure scenario and said it can be anything as simple as a poorly fitted RJ45 connector on Cat6 cable. He went on to explain the wide range of features available on modern cameras and how each can cause problems if not fitted correctly. Paul finished his presentation by asking why it is that some manufacturers have huge numbers of cameras in their product range and advised that installers think about the systems rather than products.
Following a buffet lunch sponsored by Eneo, Darren Wildgoose expanded on the topic of cybersecurity and scared the entire audience with tales of security breaches and weaknesses. Some questions were asked as to the safety of storing camera images and footage in the Cloud, which generated some thought provoking answers.
The series of presentations was concluded by CEO and founder of Tavcom, Mike Tennent, who returned to the confusing subject of standards and explained that while they are welcomed by the industry, standards should really be the minimum level that systems are installed to. Mike went on to talk about BSEN 62676-4 and questioned whether standards based on real world scenarios rather than stationary targets in controlled environments would be more beneficial. Mike also brought to our attention that the latest standards do not refer to CCTV but VSS (Video Surveillance Systems)!
The day was brought to a close by a Q&A session which raised a number of subjects including the various standards, 'getting what you pay for' and why end users with a little knowledge are the biggest barriers to contracts being signed.
Delegates left with plenty to think about after a very interesting event.