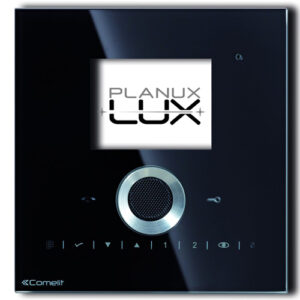 Comelit Group UK has teamed up with St George PLC, part of the Berkeley Group, to design and supply a door entry system for Beaufort Park, a mixed-use development in North London consisting of residential and commercial buildings. The site required a system capable of operating over long distances while still being cost-effective to install. This requirement made Comelit's 2-wire Simplebus technology ideal for the project.
The development comprises 24 individual blocks, each with its own bespoke stainless steel colour video digital entrance panel, integrated proximity reader and audio unit with a call button for two-way communication with the central concierge. Utilising Cat5e cabling, each dwelling is linked to a central switchboard located in one of the buildings – with no additional twin cable needed to power the monitor.
So far, a total of 1,466 apartments have been completed with various entry phones from Comelit's range, including Genius, Planux and Planux Lux. While some of the distances from the entrance panel to the concierge exceed 800 metres, this challenge was overcome using 2-wire technology, which enables long-distance connectivity across the entire development when distributed across several building risers. Unlike polarised cables that have limited functionality, this non-polarised alternative can be used in any direction.
As with all new housing developments nowadays, St George was also required to offer affordable housing alongside market-priced housing in order to achieve more balanced communities, income levels and social mix. Comelit was therefore asked to supply a variety of internal monitors from its range to suit the differing specifications of each individual apartment. Comelit's Genius monitor was used for the entry-level apartments, with Planux and Planux Lux for the higher-end units, all of which work seamlessly on Simplebus.
Francesca Boeris, Comelit's UK Sales Director, said, "Due to the simplicity of Simplebus, we were able to meet and exceed the requirements stipulated by St George. Specifically, we were able to supply a system that was robust, flexible and most importantly, allowed for a cost-effective and easy installation."