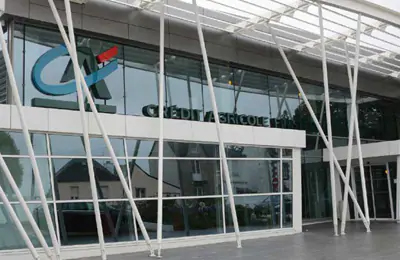 The Client: 
Crédit Agricole Finistère based in Quimper is one of 39 regional banks forming part of the French banking group Crédit Agricole. Its activities include business, commercial and private banking. The Finistère head office has chosen video surveillance, access control and intruder, and fire detection solutions from Honeywell. The bank's branches are equipped with Honeywell video surveillance solutions.
The Situation: 
Crédit Agricole Finistère head office is around 20000 m2 spread over six floors, and several buildings (main building, call centre, technical building and social building). Its banking network consists of approximately 132 agencies, 328 cashpoints and 236 Point Vert facilities (basic banking services offered by a local retailer).
Risk prevention is a major concern. In the branches the risks are mainly associated with malicious intent and the protection of individuals. At head office main concerns are about securing the buildings and technical installations, the confidentiality of archives and the protection of individuals.
The Solution:
Crédit Agricole's head office was equipped with "ESSER by Honeywell" fire security systems, and by Honeywell access control solutions, video surveillance and intruder detection solution. All security management is handled centrally at head office and the viewing of video images is enabled via remote monitoring through a partner.
"I am satisfied with the Honeywell security solution and I recommend it. I found no issues as our requirements evolved. The Honeywell solution is upgradable and allowed most of our needs to be met,"
states, Mr Lagadic, Head of Security at Crédit Agricole
"Honeywell is a versatile manufacturer offering solutions which interface and integrate with each other, whether linked to video, access control or intruder detection."
Mr Quelennec, Designer and Head of CIDEL Quimper
The Benefits:
A security system that is 'open', integrated, flexible and upgradable
The security system needed to integrate access control, intruder detection and Central Technical Management, particularly through the feedback of technical information and the management of access points. The HID badge reader system is a real plus for time management.

The head office is equipped with the PRO220 controller, around 80 OmniProx™ readers for around 1000 badge users, 75 HD31PX indoor/outdoor IP cameras and several Fusion IV NVRs. The video protection and access control systems interface with the intruder detection system thanks to the Honeywell Galaxy® Dimension control panel managing more than 400 intruder detection points as well as the Honeywell fire detection system. At the branches, the Honeywell video solutions installed comprises around 40 Fusion hybrid recorders (IP and analogue).

A bespoke, user-friendly access control system 
The Honeywell solution was programmed to manage controlled access to the back office for external staff with the use of the Galaxy TouchCenter touchscreen keypad. Doors can be controlled through a choice of modes: for example, free access during the day, or the use of a badge required to gain access to the back office.

"We have never had any problems associated with equipment limitations. Honeywell's open products were able to respond to all our needs thanks to their programmable functions", states Mr Lagadic.

Strong local technical support and a close relationship with Honeywell 
CIDELs strong local presence, local distribution availability, and the expertise of its techniciens, along with the relationship with Honeywell meant that any negotiations carried out were always made in close three-way collaboration.
A reliable security system responding to the requirements of the insurers, the surveillance company and the regulations in force 
Crédit Agricole's insurers required an APSAD-certified installation, made possible by the Honeywell NF&A2P type 3-certified Galaxy Dimension. The installation also needed to conform with national video surveillance regulations (APSAD R82), as well as respond to the constraints imposed by the individual sites in line with each branch (e.g. recording).
Partner of Choice: 
CIDEL is a local company with over twenty years' experience in the security sector. Based in Rennes, the company has 22 highly experienced engineers. The company specialises in providing fire and security installations to banks, large industrial installations, local authorities and the Military. The company works in direct partnership with Honeywell Security Group.
The Products:
Galaxy Dimension GD-520 intruder alarm control panel and access control panel
Galaxy TouchCenter touchscreeen keypad
PRO2200 Access controller
Badge readers and badges: OmniProx™ range
Fusion IV digital video recored (16 and 32 track)
HD3 range of interior IP mini domes
Crédit Agricole Finistère – France Case Study (PDF)