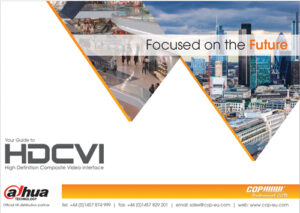 In a move to assist surveillance installers embrace the advantages of High Definition CCTV imagery, COP Security has released a new guide to utilising Dahua's High Definition Composite Video Interface (HDCVI).
Benefiting from the HD advantage has never been easier, as the guide steers the reader new to this technology through how to upgrade to a high definition system.  The guide contains simple explanations of the cost, performance, features and benefits of upgrading from analogue to HDCVI – plus cost and performance comparisons with analogue and IP systems.
Commenting on the new guide, Gareth Rhodes, Sales and Marketing Manager for COP Security said: "We are proud to be playing a major role in helping to switch the surveillance industry from standard, to high definition systems – whilst making that transition as simple and economical as possible via Dahua HDCVI."
The new guide is available to download free-of-charge via the COP Security website, where visitors can also enter a competition to win a 4K smart TV.