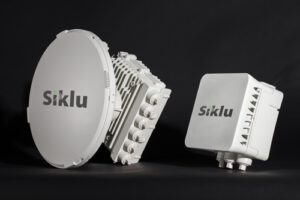 Clear Vision Technologies (CVT) has entered into a new partnership to supply Siklu's range of E and V band Millimetre Wave wireless products.
The Siklu EtherHaul range provides millimetre wave connectivity that combines fibre installations with the benefits of wireless transmission. The units operate in the unlicensed 60-80GHz bands and are ideal for backhaul links and security networks. Pencil-width beams enable stable transmission in densely populated areas where buildings and foliage cause significant problems for wider beamwidth devices. The range includes both street-level and rooftop deployable plug-and-play units with automatic alignment.
Sarah Moss, Commercial Director, CVT commented, "We're excited to be able to offer our customers a range of products that give the capacity and reliability of fibre installations but with the flexibility, ease of installation and affordability of wireless. Siklu is the perfect partner for CVT – filling the gap in our wireless portfolio for millimetre wave connectivity whilst maintaining the advantage of license-free installations."
"Siklu is excited to announce a new partnership with Clear Vision Technologies that will enable us to continue our expansion throughout the United Kingdom," said Aviram Segal, EMEA Sales Director from Siklu.