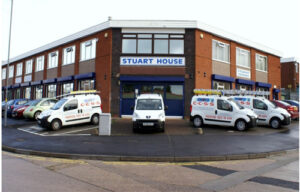 Close Circuit Security Services (CCSS) has received a funding package worth £730,000 from Santander Corporate & Commercial to allow it to invest in and grow a new division called UK Security Doors.
Founded in 1998, CCSS has seen turnover increase from £4.6 million in 2012 to £8.2 million in 2015 and is expecting it to reach £10 million for FY2016.
The funding from Santander Corporate & Commercial will be used to support the development of the UK Security Doors brand, which is focused on developing doors for social landlords and corporate clients. CCSS previously subcontracted the manufacture of its range of security doors but realised it could manufacture its own given the demand in the market for such products.
The funding will also allow CCSS to expand its workforce by hiring five new employees over the next two years, contributing to the overall expansion of the company. The firm currently has around 80 employees.
Sarah Kerr, Finance Director at Close Circuit Security Systems, said: "Market research and feedback has shown there is a strong need among corporate markets for high-security doors, both in the Midlands and across the UK. We expect the funding from Santander will enable us to significantly increase our customer outreach and maintain our strong growth."