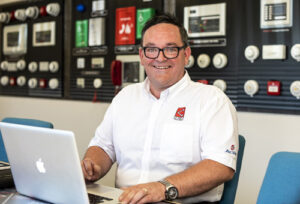 C-TEC has announced the promotion of Brian Foster to the newly-created role of UK Sales Manager. Reporting directly to Sales Director Charlotte Manley, Brian will head up the company's External Sales Team.
With over 30 years' experience at C-TEC, Brian started his career on the production floor, working in Returns and Technical Support before being appointed Northern Fire Account Manager in 2009.
Charlotte said: "Brian is hugely respected, exceptionally well-qualified and certain to be a success in this very exciting new role. I am confident he will continue to be an invaluable asset to the team and play a key role in C-TEC's future growth and prosperity."
Brian commented on the promotion: "I am delighted to be appointed to this new role and am looking forward to inspiring and motivating the team."
The company has also appointed two new Fire Account Managers. Simon Griffiths will cover accounts in the North and Scotland and Jeff Pankhurst the South East and London.