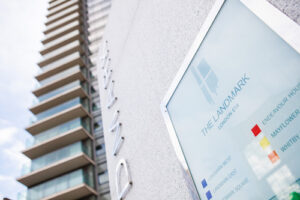 Interphone has upgraded the door entry and access installation at The Landmark in Canary Wharf, London implementing a biometric access solution at the residential development. The installation came about following concerns regarding the security risks posed by cloned, lost or redundant key cards.
The Landmark comprises 646 apartments across two towers. Situated two minutes from one of London's key financial centres and just outside the Police checkpoint, safety and security are of paramount importance for the 2,000 residents at the development. However, it was essential that the investment was implemented within a tight budget, so the technology had to be installed and integrated with the existing access control system.
Interphone replaced all existing card readers, which were in operation across all front and rear entrances as well the gym, health club, bike cages and bin stores. The new biometric readers take advantage of multispectral imaging scanners that quickly identify a registered fingerprint. Meanwhile the controllers of the access system were updated to allow network connectivity, so that the management and enrolment of fingerprint data could be handled at any network point within the building complex.
It is reported that the biometric solution will not only increase overall security throughout the development, but will also help monitor who has access to the gym. This will ensure that only residents who have completed the safety induction course can use the gym, while preventing the sharing of key cards and fobs with non-residents to gain unauthorised access.
Rob Howell, Estate Manager at The Landmark: "We were looking for a safe and secure access solution that would work alongside our existing systems. Interphone was able to create and install a biometric solution that is highly effective, cost efficient and meets our precise needs. We are now benefitting from fast, reliable and secure access both internally and externally."