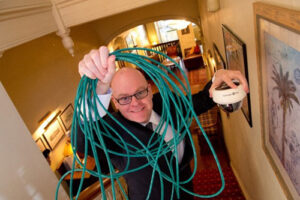 Hadrian Technology has installed an analogue based, high definition camera system known as AHD in Hardwick Hall, one of the North East's best known entertainment venues.  The new cameras offer clear video transmission over traditional 75-3 coaxial cable for distance runs of up to 500 metres.
Management at Hardwick Hall recognised the need to help protect and manage crowds attending events with upgraded CCTV. Managing director John Adamson said: "We've had CCTV for many years but the pictures were of too poor a quality to be appropriate for the numbers of people we are looking after now.  We needed picture quality as good, if not better than you get on your TV at home. The problem we were faced with was that many new CCTV systems need digital Cat 6 cabling which is very costly and hugely disruptive to install in a busy hotel environment like ours."
A chance conversation with Gary Trotter of Hadrian Technology (pictured), who was attending Mr Adamson's newly completed spa facility at Ramside Hall, led to an ideal solution at a fraction of the cost.
Hadrian Technology re-used over a kilometre of old co-axial cables by converting digital camera signals and allowing them to run over previously installed networks.  This avoided the need to rip up floor boards and hack off plaster in order to find the route of previously installed cabling. The system can also run at the same time as the original analogue camera installation meaning that businesses can now phase the upgrading of their systems.
Gary Trotter, general manager at Hadrian Technology, said: "There are thousands of buildings and properties like Hardwick Hall where there is a need to upgrade CCTV systems. However, till now there has been no solution without incurring major cost and the disruption associated with ripping out old analogue cabling and installing new Cat 6 networks. When we visited Hardwick Hall it was immediately apparent that to replace the existing 19 camera system and add another 29 high spec cameras with minimal inconvenience, we would have to make use of existing cabling, despite the normal incompatibility issues.  By using the new AHD technology developed with our partners Concept Pro, we were also able to halve the time taken to complete the job and saved the client well over ten thousand pounds."