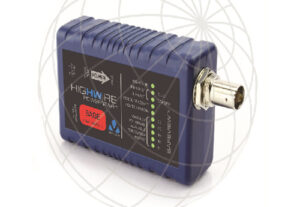 With high definition IP network cameras and domes increasingly being utilised by companies in order to capture evidence grade images of activity at their head offices and branches, there is the potential for would be fraudsters to gain access to valuable and confidential information.
Deployment of external IP cameras requires the provision of an external network connection to the IP camera device and these external connections could be subject to malicious tampering to gain access to a company's internal network. Although much can be done to secure and isolate network connections with a fully-managed network switch, and even deploying an entirely separate network for the surveillance system, there are still risks associated with these approaches.
These concerns are particularly relevant where it might theoretically be possible to disconnect an externally-mounted IP camera, access the network through this connection, and potentially detect and disable the other cameras and/or the network video recorder itself. If the surveillance network is bridged to, or part of, the main network, it might even potentially be possible for a well-prepared, highly-skilled attacker to access or otherwise disrupt other systems on that network.
Manufactured by Veracity and available exclusively via Samsung Techwin Europe, LINKLOCK provides a total barrier to all unauthorised network access by fully blocking connections to any cable or equipment that has been tampered with or disconnected. It works by completely disconnecting data and power from the coaxial cable link, providing complete isolation of the affected link. This makes it an ideal protection measure for security-critical installations, such as at banks, where network cabling or video surveillance equipment might be located externally in order to detect, monitor and record evidence of criminal activity including vandalism, ATM skimming and armed robbery, as well as to remotely monitor premises out of business hours.